Benefits of Magnolia DAM solutions
Global search
Retrieve digital assets from the internal DAM, an integrated external DAM, or both using the powerful, AI-driven search feature. Make Magnolia the central hub for content, digital assets, and any other data that is relevant for content marketing teams.
Auto-tagging images
New image assets are automatically tagged for key subjects using innovative Image recognition fueled by AI-driven algorithms. For more advanced image recognition, easily configure Magnolia to use Amazon Rekognition. Ensure your marketing teams can find images when they need them.
Image editor
Use the built-in image editor to fulfill the everyday needs of marketers when it comes to light image processing. Marketers can quickly edit photos without needing to switch to another system. There's also no need to upload multiple versions of an image for different frontend use cases.
Connector Pack
If you don't want to migrate your digital assets to Magnolia, leave them where they are. The pre-built DAM Connector Pack lets you integrate with any external DAM system. If a pre-built connection isn't available, simply integrate with the external DAM of your choice using Magnolia's robust set of REST APIs.
Chain DAM systems
Don't limit yourself to a full migration of assets, or forgoing the powerful built-in Magnolia DAM. Instead, use multiple DAM systems at once to fulfill specific business requirements. Once configured and integrated, marketers will be able to search for digital assets across all DAM solutions through one Magnolia interface as if everything was stored in a single system.
Customer experience
Bring together content and audiovisual digital assets to form more compelling digital experiences. With Magnolia, it's easy to deploy digital assets to improve the customer experience, and in turn, drive real business results.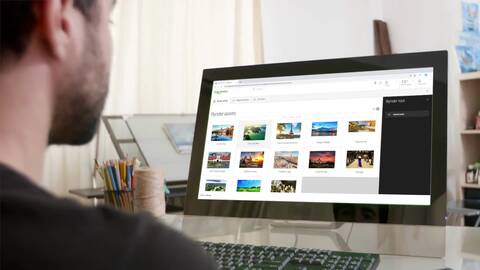 Get our product brief on how to integrate an external DAM with just a few lines of configuration and make assets available directly within Magnolia.
DAM features built with content creators in mind
Get the most out of your expensive digital assets by making them highly available. Easily use the Find Bar to search for relevant digital assets, then select them for use on a variety of frontend apps or Magnolia stories. Audiovisuals are a powerful way to make content more compelling.
Enterprise-grade Digital Asset Management
DAM capabilities will let your organization prevent data silos. Hidden or lost digital assets are an enormous burden on the budget of marketing teams, but it doesn't have to be that way. Magnolia's AI-powered tagging, metadata, and search capabilities ensure digital assets are highly available when marketers need them without additional work.