Back to the blog
How RIEDEL Combined Content and Commerce to Build a Cutting-edge Customer Experience
How RIEDEL Combined Content and Commerce to Build a Cutting-edge Customer Experience
RIEDEL is one of the world's leading manufacturers in high-quality glasses and decanters. The award-winning European manufacturer takes great pride from its passion for traditional hand craftsmanship.
As their business was growing at a fast pace, RIEDEL decided that it was time to revamp its digital presence. The first step was a new website homepage, but before long, the company's digital transformation was well and truly underway.
Since RIEDEL decided for Magnolia CMS to power its transformation, we've taken a look at how RIEDEL managed to combine both content and commerce to deliver a compelling experience for their international customer base. By the end of this article, you'll have learned how the right underlying software—one that lets you take advantage of flexibility, scalability, and speed—is key to excellent commerce experiences.
The Challenge of a Growing International Business
RIEDEL's global presence had placed significant demands on their communication, sales and ordering methods. They sell their products in over 125 countries, including the USA, Canada, Great Britain, and Australia.
They needed to re-architect their infrastructure to streamline workflows, fulfill regional requirements, and comply with local regulations— all while being able to deliver a first-class customer experience.
Their previous system comprised of three separate sites:
The RIEDEL B2C online store

The RIEDEL B2B online store

The RIEDEL brand website
With a rapidly growing global presence, RIEDEL needed to acknowledge the needs and requirements of each market. Each market has its own language, payment methods, delivery system, and tax rates. Further, the consumers in each country have their own culture, expectations, and behaviors. For instance, an Australian customer could navigate a website in a different way to someone from the USA, but both customers need to be able to purchase their desired product quickly and seamlessly, even when their journey takes them from mobile to desktop, or vice-versa.
RIEDEL also needed to ensure data transfer between their online stores operating in the different regions for the sake of analytics and optimization. However, despite having a unified product management system, the communication between the product management system and the two separate online stores was disjointed, costing a great deal of time and money to continuously monitor, push, and pull data.
Two Tools, One Seamless Solution
To address these considerations, RIEDEL opted for two best-of-breed software solutions, as well as an experienced agency to help bring it all together.
commercetools: A Modular, API-first eCommerce Solution
RIEDEL decided that a microservice approach would be necessary for their new platform, and the commercetools platform, with its microservice architecture, proved to be the perfect fit. A microservice architecture allows individual country-specific solutions to be implemented incrementally in their assigned subdomains.
Magnolia CMS: The Content Hub
In order to deliver an excellent customer experience for the commerce platform, RIEDEL needed to distribute high-quality and engaging content at scale. Magnolia CMS was the go-to solution for RIEDEL due to its ease of use and flexibility.
Thanks to Magnolia CMS's decoupled architecture, RIEDEL was able to leverage the platform as a content hub, storing its content in a central location ready for distribution anywhere via REST API calls. This prevented issues such as content duplication and inconsistent messaging. Moreover, translating and localizing content became easier, as RIEDEL's content was no longer fragmented between platforms or siloed teams. Plus, Magnolia CMS's extended roles management and workflows came in handy to provide the right blend of governance and freedom for addressing local market needs.
Image courtesy of pixelart
The Fusion of Content and Commerce
Learn how you can combine Magnolia CMS and commercetools into a digital platform for your business.
pixelart: A Full-Service Digital Agency
RIEDEL opted for the services of Austrian digital agency pixelart to conceptualize and implement their new digital presence. pixelart led RIEDEL through a process of discovery, strategy, design, technology selection, and implementation—all of which resulted in a true digital transformation of the RIEDEL brand. Together, RIEDEL and pixelart chose Magnolia CMS as the web content management system, while eCommerce functionality came courtesy of commercetools.
Thanks to specially customized content elements, RIEDEL's digital experience now takes customers on a journey where they get to know everything about wine, including wine-specific glasses, recommended drinking temperatures, wine colors, and aromas.
RIEDEL's online store now houses over 900 different products and boasts a unique user guidance feature that has proven to be a huge success. This was achieved by clearly categorizing their products and implementing a logical structure which helps RIEDEL's customers to find their perfect product.
In addition, RIEDEL managed to provide a cutting-edge mobile experience through simplified navigation, smooth animations, and even native mobile gestures.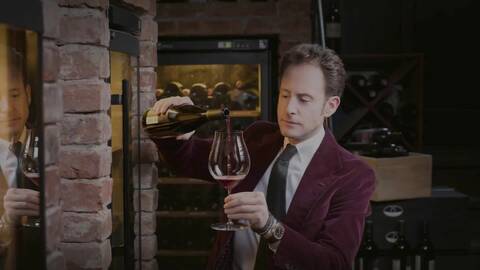 Video courtesy of pixelart
From Homepage Relaunch to Industry-leading Digital Experience
RIEDEL's global growth left them at a crossroads. They could either continue to patch together their digital experience and data across disjointed tools, or they could build around a decoupled architecture to push, pull, and manage content, assets, and products at will—from anywhere, to anywhere.
RIEDEL opted for an eCommerce solution in the form of commercetools and a hybrid headless CMS in the form of Magnolia CMS to create a true fusion of content and commerce, and a platform that is future-proof for RIEDEL's growth.
Today, RIEDEL customers enjoy great online shopping experiences in their local languages, while RIEDEL benefits from lower costs, simplified workflows, and better access to customer data.