Integrating Your Content Management With Your Analytics
A Walkthrough of the Magnolia Analytics Connector Pack
Drawing insights from collected data and then leveraging those insights to make better decisions is how business is conducted today. Hardly any decision is made without taking into account the data around us, and that will continue as we move into the future.
Analytics is a critical driver in marketing today, but the ever expanding sources make it challenging for companies to gather the correct data and extract value from it. Many organizations are used to a suite approach to software, where one system handles everything they need for a specific department or in some cases across departments.
Unfortunately, in today's world where there are so many moving pieces, this approach needs to make way for a best of breed philosophy instead. Rather than trying to find the perfect solution for your marketing needs, the better option is to combine different technologies into one stack that works best for your organization, with a DXP (digital experience platform) at the centre.
Reliable Digital Experience Platform (DXP) Architecture
The difference between good and great DX is a modern, integrated tech stack with content management, developer tooling and collaboration at its core.
What is Marketing Analytics?
We live in a data-driven world where customer interactions provide data that is then used to make decisions and improve that customer experience. While marketing requires a lot of creativity, it also requires just as much technical input to be effective.
Marketing analytics is the process of studying marketing metrics to determine the effectiveness of current tactics and identifying ways to improve marketing efforts.
The goal of marketing analytics is to take marketing data acquired in various forms and then apply that data in the context of a brand to determine if current efforts are in alignment with marketing goals.
Marketing is closely tied to sales, and with the help of analytics, marketers can be more efficient and avoid investing their time and effort in activities that don't bring the desired return.
The Importance of Analytics in Context
Marketing analytics helps to determine a few things concerning how a brand operates. It helps to put the big-picture in context and provides an understanding of current trends. Marketers can see which campaigns and content pieces are working, monitor how they're doing over time and determine trends that they can exploit.
Marketing analytics provides not only a baseline for where you are currently, but it also allows you to use that data to decide on what to do next.
Where Do You Start to Measure?
To get started with marketing analytics doesn't just mean you should focus on collecting data. There is so much data that without proper organization, it can be challenging to manage.
The first step in maximizing marketing analytics is to create segments based on specific characteristics or actions that your customers take.
This can lead to more beneficial results as it improves the targeting you are capable of doing. With a well-defined customer persona, segmentation can show you which content resonates with your target market and which doesn't, adding context to the data you have and helping you to better tailor experiences.
Segmentation can also help with understanding different customer behaviors. If you're marketing an eCommerce store, you can tell which customers are merely browsing through without buying, which ones are abandoning their carts and more. It then becomes easier to personalize content that appeals to each stage of the buyer journey.
Content Marketing Analytics
Beyond helping to put the bigger picture in focus, marketing analytics can provide insights into customer preferences as well as industry trends. When combined with content, analytics can help any brand to stand out.
Search intent is what drives customer behavior, and one of the ways to measure search intent is through keyword analysis. Keywords don't just tell you what search terms are popular; they tell you what your customer and the people in your industry have on their mind. These keywords can show you the exact problems your market is facing, identify what things are working well for them and help you predict future trends.
Not to mention, you can tailor your content to meet the needs of these customers, offering them the solution to their problems.
When combined with analytics, content becomes an even greater force to be reckoned with. Marketers are responsible for so many channels today, so they need tools that help them to manage the content at their disposal as well as integrate analytics.
Magnolia already provides a hybrid headless CMS that empowers marketers to create content once and publish it everywhere, without losing the ability to edit, preview and rely on user-friendly templates. With the help of integrated analytics, marketers now have the power to understand how their content is doing and optimize it to improve performance even further.
Product Brief: Magnolia Analytics Connector Pack
Aggregate all your analytics data and see the insights straight in Magnolia, tightly coupled to content.
Magnolia Analytics Connector Pack
Magnolia's Analytics Connector Pack lets you make data-driven decisions on your quest to deliver fantastic customer experiences. Developers can easily connect external analytics sources to Magnolia, allowing marketers to see everything within the CMS. Connect with major analytics tools out-of-the-box or easily integrate with other proprietary or industry-specific tools instead.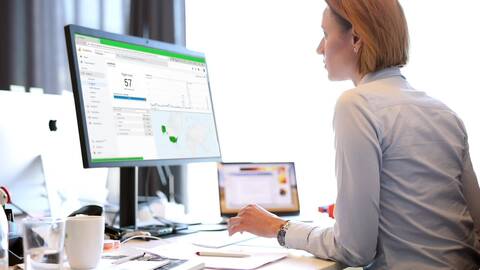 See Marketing Performance in Context
Collecting data on its own and analyzing is beneficial, but it becomes even more valuable when the metrics can be viewed in context, coupled with the content in question. With easy access to dashboards, marketers can receive more contextually relevant information without interrupting their workflows.
Magnolia's flexible integrated user interface makes all of this possible, retrieving data from third-party analytics, transforming that data into visual charts, and then putting them on display for practitioners - all within the CMS.
Connecting data sources to your CMS doesn't need to be a time-consuming process. The Connector Pack helps you to aggregate your data and display it in your CMS by offering a framework for retrieving data from key providers like Google Analytics, Matomo and Adobe Analytics, all out-of-the-box.
Utilizing this framework helps to reduce development time as well as the need for maintenance. Building on Magnolia's easy integration capabilities, Magnolia's Analytics Connector Pack relies on an API to connect to any data system.
Customize How You Visualize the Data
Data from the connected analytics sources gets rendered as user-friendly charts and other dashboard ready metrics that make it easy for your marketing team to decipher and draw insights. A dashboard of default metrics such as visitors and sessions are provided out-of-the-box.
You can aggregate and merge analytics data from multiple sources into a single dashboard, customize the dashboard to include metrics that are important for practitioners on your site, as well as change how the data is displayed.
Boost Your Marketing Performance with Magnolia's Analytics Pack
Analytics provides tremendous value to marketers in their quest to optimize content for every occasion. With the help of Magnolia's Analytics Connector Pack, marketers have everything they need to boost marketing performance tenfold.