Back to the blog
Integrating Your Content Management with Your Digital Asset Management
Integrating Your Content Management with Your Digital Asset Management
A Walkthrough of the Magnolia DAM Connector Pack
As companies rush to create more content to meet consumer demand, it is leading to an increase in the number of digital assets created as well.
Roughly 25% of marketing decision-makers view refreshing content and creating new assets from existing content as a top priority. But many companies still face problems with out of date content libraries because it's not always possible for marketers to know when to refresh old assets and when to create new ones.
When creating tech stacks for marketing, companies once favored a suite solution that could handle everything marketers required. Unfortunately, such an approach doesn't yield the same results as it once did, as IT teams need increasing speed and flexibility.
What is Digital Asset Management?
Digital asset management is a solution for storing, organizing and sharing digital assets in one central location. Teams can access any assets they need, whether that be images, videos, or some other media type.
For enterprise companies especially, DAM is becoming a requirement due to the large number of files needed for content. Whether those files are a collection of images from photographers, video recordings from the latest digital event or new design files for the latest mobile app, a DAM solution is crucial for managing all of it.
Why Add DAM to Your MarTech Stack?
In today's cloud-based environment, the number of digital assets available can become overwhelming. With a DAM solution, companies can easily manage and track all of them, allowing employees to retrieve the files they need for content campaigns without any hassle.
DAM helps you to build a consistent brand image. Marketers can discover available assets that match the existing brand identity and use them while creating content.
The ability to find files quickly helps to improve sharing and collaboration across the organization and makes publishing and distribution easier, eliminating digital asset silos.
A DAM alone isn't enough, but it offers tremendous value in conjunction with another piece of your MarTech stack, the CMS.
Combine DAM with Your CMS
In today's content-driven world, consumers expect content delivered to them across multiple channels. To cope with the flurry of content channels, organizations have turned to headless CMS platforms to create and deliver the required experiences for their customers.
But a headless CMS alone isn't enough to satisfy the needs of everyone. Developers find it easy to connect to multiple channels via APIs, but marketers sometimes struggle with the lack of user-friendly interfaces.
A hybrid headless CMS provides the capabilities that matter most to both marketers and developers in one platform.
Magnolia's hybrid headless CMS platform offers integrations with digital asset management solutions that can make digital assets readily available with the Magnolia DAM connector pack.
Magnolia DAM Connector Pack
Magnolia's Connector Pack allows you to integrate an external DAM with a simple configuration, making assets available within Magnolia.
Even though Magnolia has an internal DAM tool out-of-the-box available, we understand that your organization might utilize an existing DAM product.
With the Magnolia Connector Pack, it is possible to connect external DAM systems to maintain existing workflows and processes, while still managing all of your assets from one location.
You can view assets from an external DAM directly in Magnolia and reduce the need for developer intervention to connect DAM products.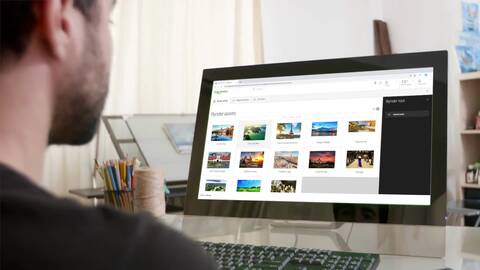 Take charge of your entire content lifecycle by creating, managing and sharing digital assets with ease, from one integrated solution:
You can search, browse, and preview 3rd party assets inside the Magnolia Apps.

Edit key information for assets, such as the name or description.

You can even edit images using Magnolia's editing features.

And use all external assets seamlessly in the Pages app or other Content apps - right in your existing workflows.
Connect Content and Assets
What happens to all of your existing assets when you need to migrate to a new CMS?
For enterprise organizations with a high volume of assets from videos to images and PDF files to manage, there is a need for an organized and easily accessible system. With Magnolia's DAM Connector Pack you no longer need to worry about how to migrate assets to your new CMS or from one DAM to another.
Support is available for commonly used DAM solutions including Bynder and Amazon Simple Storage Service (S3) and more.
Not only can you connect to other DAM systems as needed, but you can also work with more than one DAM system in parallel. This gives you the flexibility to be ready for any potential mergers or acquisitions that disrupt your existing workflows.
Also, avoid having to migrate multiple assets from disparate systems such as those from DAM systems belonging to the same organization in other regional locations or countries.
The DAM Connector Pack makes it possible to connect to existing DAM systems with only a few minor configurations. No-code integration allows for the seamless integration of Magnolia with the DAM products of your choosing.
Since your DAM is connected to Magnolia content authors can utilize the Magnolia Content App to browse assets within Magnolia. Editing images, tags, or metadata can be done from one location without switching between solutions.
Manage Your Digital Assets and Content with Magnolia
Navigating the plethora of digital assets at your disposal can be a daunting task if you're not armed with the right tools to help you in the process. Creating content for the omnichannel world of today requires multiple supporting assets that not only add relevance to your audience but also adequately represent your brand.
Connector Packs like the DAM Connector Pack can provide not only a way to manage all of your digital assets in one location but also give you the flexibility to connect to the DAM solution of your choosing.