Magnolia's DXP Benchmark Tool
Evaluating your current tech stack and your ability to implement DX is essential as a modern enterprise business. It helps you determine the ROI of the tools you use daily and identify areas where you can improve them. This includes tools like your content management systems, marketing automation software, customer relationship management and others. However, no tool is arguably more important in today's content-driven environment than your digital experience platform (DXP).
In light of that, we at Magnolia decided to create the DXP Benchmark tool to help you evaluate the current capabilities of your DXP. With the help of this tool, you can find out how your DXP stacks up against the competition and see suggestions on the areas you need to improve.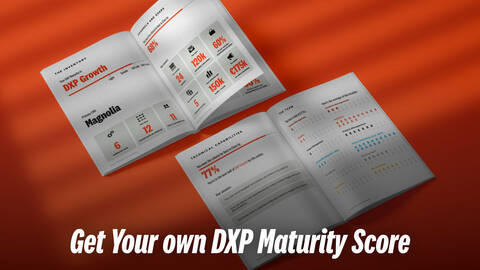 Even if you don't think you have a DXP, then you do. A digital experience platform is essential for companies to navigate the number of digital channels that bombard customers today. It is necessary to help marketing teams reach all of the digital touchpoints buyers traverse as part of their customer journeys.
The CMS industry has shifted from simply managing content to orchestrating digital experiences, and your DXP is the combination of tools you use to launch those experiences. As a result, evaluating your DXP is important to understand where you are as a business and ensure that you don't fall behind your competition.
Content creators tasked with developing engaging digital content need a digital experience platform that offers among other things a friendly user experience and access to crucial business capabilities.
Some of the questions that an evaluation can help you answer include:
Does your current DXP enable you to reach your business objectives?

Are you able to create the seamless experiences that your customers desire?

Is your content being delivered to the appropriate channels?

Does your team have the right tools to do the job?
The DXP Benchmark tool can provide the first steps towards helping you answer those questions.
How the Tool Works (And Why We Built It)
By sorting you into one of four categories to determine your DXP maturity level, the benchmark tool provides a tool to help you navigate and inform internal discussions. With questions such as the number of websites you manage and the transactions completed online, we can determine the capacity you require from your DXP.
Evaluations about how you use your digital assets, how much you know about your visitors, whether you can deliver a personalized experience and the current tools at your disposal can help you define DXP maturity and explain your current levels to key stakeholders.
The DXP Benchmark tool allows you to receive a lot of information about the state of your current toolset with only a few short answers. This easy-to-use concept can provide you with a roadmap for advancing your digital journey. We believe that this tool is crucial to understanding the current scope of a DXP and the importance of composability for the present and future.
Everything about Composable DXP
We've collected all our DXP resources for you. Learn how to develop your DXP and learn from others how to compose a DXP fully tailored to your needs.
Benefits of the DXP Benchmark Tool
So what do you get by using the benchmark tool?
Understand DXP maturity: Your DXP maturity level helps show you how well you are currently maximizing your tech stack, how effective you are at implementing DX and how much further you can go.

Identify the right tools: While it may be tempting to overhaul all of the tools that make up your DX platform, you might only need to make changes to a few areas for maximum effect. The benchmark tool can help you spot the right places to focus.

Highlight areas for investment and improvement: Sometimes, an investment plan for one area might not provide the answers you need. The benchmark tool can help you pinpoint areas needing more investment and areas that just need tweaking.
Ready to see how your current DXP stacks up against the competition? Try the DXP Benchmark tool and find out: Magnolia DXP Benchmark.
What if you have used the tool already and have questions about the level you have been placed in? Or you want to learn more about our understanding of headless DXP before you take it? In any case, we wrote a blog post that aims to tell you a little bit more about our take on digital platform maturity. We've also collected all our DXP resources for you.