About the event
Magnolia has been solving content problems for many years - in fact over 20 of them. Customers such as Avis Budget Group started their multi-lingual journey with Magnolia in 2013, Tesco 2016, Argos in 2017. Yet as a brand, Magnolia is still not a common one in the DXP/CMS landscape here in the UK. However, we continue to attract strong brands (RSPB, Post Office, Allwyn (National Lottery), Hastings Direct, Thomas Cook etc).... Why? And How can you help?
Kickstart has a parallel track - How the beautiful game (football of course) offers similarities in terms of competition, team and winning and as such the agenda represents the game in all its glory, told along the way by a talkSPORT broadcaster and an ex International Professional.
Expert speakers from:
Watch the video
Questions that were answered:
Who was the best commentator of football and why?
Why is there so much procrastination in pressing the button on digital transformation?
How do businesses generally see the future digital landscape?
What indications are there for better sales conversion rates?
Why has Magnolia only just changed its go to market message?
How do you score a penalty?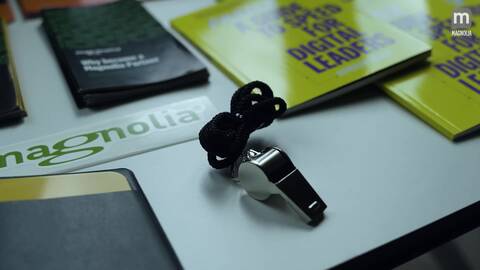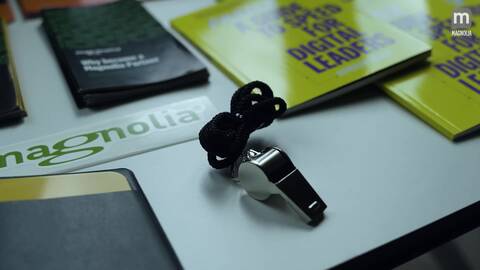 Agenda
The agenda offers valuable industry intelligence, updates on Magnolia and stories from the good old days. Don't be late - you will miss the intro…
12:30 ARRIVALS (Pre-match food & refreshments)
Kickstart

A day in the life of a talkSPORT commentator

Geoff Peters

British sports commentator & broadcaster, talkSPORT radio
"FIFA 23"

A welcome to Magnolia Kickstart & introduction to "FIFA 23"

Darren Hitchcock

General Manager, UKI, Magnolia
FIRST HALF (Defend or Attack - get around the back)
Why is it taking so long!!

Insights from the Customer side, the politics, influencers, change - why are we always passing across the back?

Basheer Shahul

Chief Architect / CTO - Manufacturing
What is the market asking for?

What's the fix - surely there is a better way - we have been sideways passing for too long?

Leigh Gammons

CEO, Tangent
What is the data saying?

Data is guiding us - Stop searching for the worldy?

Chris Coulson

Group Marketing Director
SECOND HALF (VAR & Assists)
Scoring goals from the front-line

What are we repeating because we know it works

Joseph Page

Regional Sales Manager, Magnolia

Alistair Milne

Regional Sales Manager, Magnolia
Subs with sheets of paper - the message

What is our philosophy, and how do we demonstrate what we stand for

Anthony Poliseno

CMO, Magnolia
In the clouds

Modern standards demand modern tactics

Florian Sacharuk

Product & Channel Manager PaaS, Magnolia
EXTRA TIME (Need some energy)
Winning team (partners)

We will practise it until you're competent (enablement = winning)

FIFA '23' (win bonus)

Annick Böhler

IT Agile Project Manager, Magnolia

Bogdan Lupu

Partner Marketing Manager, Magnolia
PENALTIES (Winning / Team)
How to score a penalty

Everybody wants to be a footballer

(Oh and to win)

Jon Goodman

Former professional footballer, Wimbledon, Millwall & Rep of IRE
Keynote
Jon Goodman & Geoff Peters
Jon Goodman is a former international professional footballer who played for Wimbledon, Millwall, and the Republic of Ireland throughout his career.
Geoff Peters is a well-known voice in British sports, best recognised for his commentating and broadcasting on talkSPORT radio.
How to find us
The location
The Stanley Building, 7 Pancras Square, 7 King's Blvd, London N1C 4AG
Nearest stations are St.Pancras and Kings Cross or Euston, which includes an 8-minute walk or tube (refer below)
Nearest underground station is King's Cross St. Pancras via Circle, Piccadilly, Hammersmith & City, Northern, Metropolitan and Victoria